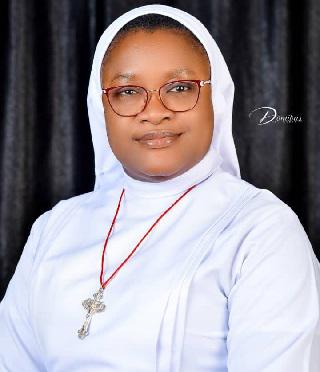 Welcome to EHJMS Isolo
Eucharistic Heart of Jesus Model School is a Catholic school, owned and managed by the Eucharistic Heart of Jesus sisters and Institute of Women Religious. The school is placed under the protection and shadow of the Eucharistic Jesus, our Lord and Master. The school is located at Number 12, Akinmorin Street Okota, Isolo Lagos; a place with very conducive atmosphere suitable for learning, preparing and building a better career for your wards (our pupils).
We uphold our Catholic faith and values, and at the same time, we welcome all men and women of other religions as Jesus did with mankind. What we are interested in is all about the child and his or her growth physically, morally, intellectually, culturally and spiritually.
We run Nursery and Primary sections. Our Nursery section begins with age two in Pre-nursery to Nursery Two, Pre-primary (Kindergarten) while our primary section begins with age six in Basic One. We have a high expectation of our children and for this reason we set a challenging standard to help them reach their highest potentials
Also, our school is blessed with great and excellent parents. We encourage our parents, as always, to work hand in hand with the school through constant monitoring of their children's class works and giving us feedback often on areas the school is needed to assist, controlling the time they spend watching television and their interaction with social media especially cell phone.
Rev. Sr. Gabriella Ugwueke (EHJ)
(EHJMS Isolo Supervisor)
Our Vision
To foster young boys and girls into competent leaders who will be sound in character, morals and academic standing.
Our Mission
To give qualitative and all round education to young boys and girls so as to develop a service of purpose and awareness of their roles as members of the society.
Our Motto
Ad Majorem Dei Gloriam which means "for The Greater Glory of God"